Domtar Papers
Petrick Design was chosen as the custodian of the Domtar brand from a marketing standpoint and managed its use across a wide array of materials for three keys market sectors: business papers, fine papers and commercial grades. At the design level, Petrick was responsible for design and production of all material promoting the fine paper grades, which are targeted specifically to designers and printers.
"…a magic touch few people have."
Marie Amiot, Director of Advertising and Promotion, Domtar Papers
For this client, we provided:
Strategic Positioning
Design Consultation
Writing, Message Development
Brand Management
Communication Programming
Collateral Design
Advertising
Signage
Trade Show Displays
Exhibit Design
Packaging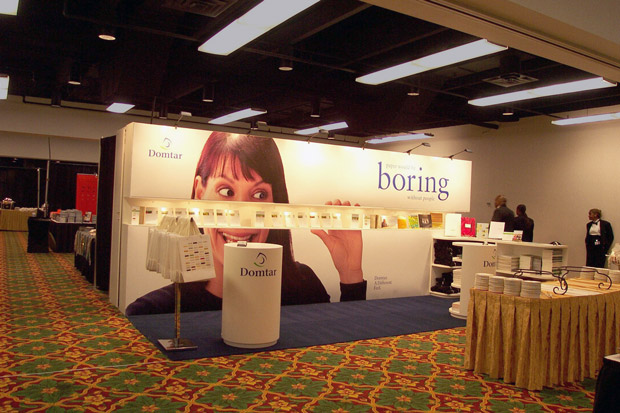 This custom-built trade show booth has a built-in shelf creating a retail-like display of swatchbooks.
"Answer Packs" are an educational series showing multiple printing techniques on various colors and grades of paper.
This "Solution Wheel" – created to promote Domtar's "Solutions" grade – is a tongue-in-cheek device to aid designers with their creative struggles; it also doubles as a stocking chart on the opposite side.
This 65 page flip book was designed to focus on the Luna grade's two greatest qualities: "great shade" and "more brightness"; it's an animated debate between husband and wife: she gets the shade, he gets the brightness.
These oversized promotional pieces promote Domtar Luna and the beauty of white paper.
Petrick coordinated the design and production of swatchbooks for all Domtar papers, along with a custom-made carrying tote.